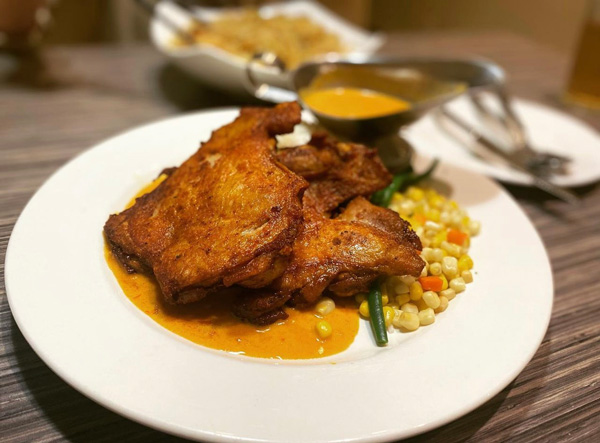 Comfort and Sophistication On The Same Plate
The best Hong Kong style cafés reflect the flavours of the many cultures that have made Hong Kong home with a blend of sophistication and comfort. For many Hong Kongers, these restaurants gave residents their first tastes of high end aspirational Western foods, with traditional richness tamed and the flavours rounded to appeal the Cantonese palate. La Amigo brings top notch ingredients and focused execution to all their dishes – AAA grade beef steaks, properly toothsome textured rice and pasta, buoyantly clean stir fries. Hong Kong style borscht is a unique take on a Russian classic, made popular in 1940's as a Shanghainese population starting making the city their home. The gently spiced Cajun Blackened Chicken Leg (AKA African Chicken – a Macanese classic) hum with bright and satisfying flavours. For those seeking Chinese classics, the beef chow fun here has excellent deep wok hei without any greasiness, and house made the Shanghainese wontons burst with fresh vegetables.
RECOMMENDED SIGNATURE DISHES
by the judges

Stir Fry Beef Noodles
Blackened Cajun Chicken Legs with spiced Tomato Cream Sauce
Charboiled (Angus Beef) New York Steak with Black Pepper Sauce (Combo Meal)
Pan Seared Chicken Legs (Combo Meal)

Discover more. 2022 Winners and the recommended signature dishes.