Critics' Choice Signature Dish Awards 2021
Chinese and Taiwanese cuisines are famed for its notably cooking styles. Lovers of both cuisines often go far and wide to find the right bowl of noodles, the perfect king crab or the most delicate dim sum morsels. The chef's attention to choosing and applying the ingredients and his/her cooking technique defines a signature dish that showcases their passion, creativity and expertise. The Critics' Choice Signature Dish Awards celebrate this excellence.
Proudly presented by Canola Eat Well
For the past thirteen years, Vancouver has witnessed a tremendous growth in the local Chinese and Taiwanese culinary scene and has recognized outstanding dishes produced by talented chefs and their skilled staffs, under the watchful eyes and discerning tastes of those behind the annual Chinese Restaurant Awards. 2021 Critics' Choice Signature Dish Awards judging panel is again made up of four prominent local food critics, who are experts in the field of Chinese and Taiwanese cuisine and familiar with the history and mission of Chinese Restaurant Awards. The entire judging panel has tastings individually and together as a group, sharing information and recommending potential tasting destinations to each other for choosing the must-taste signature dishes for the year.
The 13 award winning signature dishes of the year 2021 recommended by the judges was announced at the awards ceremony at the Vancouver Club on Tuesday, November 16. Time to explore all these award winners.
#CanolaOilSignatureDishes | Press Release
For any question, please contact us.
Discover the 13 award-winning signature dishes of 2021
*first time winners of the Critics' Choice Awards component
(In alphabetic order of restaurant name)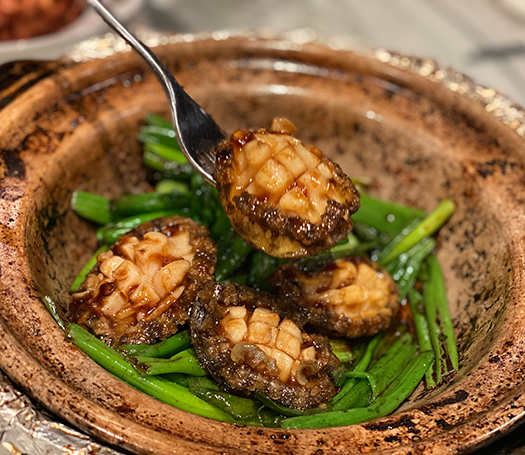 Abalone Ginger And Green Onion Hot Pot
Bamboo Grove Restaurant
6920 No. 3 Rd, Richmond
(604) 278-9585
Very rare farm raised fresh abalone is cooked exquisitely . The margin of error in cooking times is managed by the top notch kitchen crew to yield perfect texture. Unique quality and character sets this dish apart, it is tender yet providing the perfect resistance to your teeth, this dish is truly special. Nestled in a bed of savory scallions, this dish adequately demonstrates the culinary skill and delights on offer at Bamboo Grove.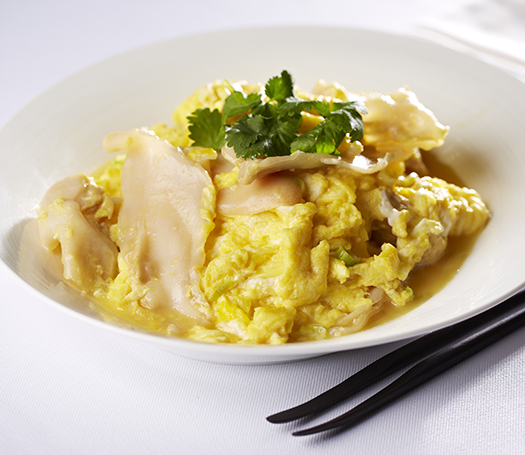 BC Geoduck With Soft Scrambled Eggs
Bamboo Grove Restaurant
6920 No. 3 Rd, Richmond
(604) 278-9585
Lightly poached slivers of B.C. geoduck nestle into perfectly scrambled eggs for the ultimate expression of luxury in culinary terms. The skill of the kitchen is on display with precision and skill demonstrated by a seemingly simple task, scrambling eggs. These are perfectly silky and cooked to perfection. The geoduck is sweet and fresh.
Dry Aged Chinese Style Bbq Duck / Quail
Boulevard Kitchen & Oyster Bar *
845 Burrard St, Vancouver
(604) 642-2900
Executive chef Roger Ma combines classic French technique with traditional Cantonese flavours for his exquisite dry-aged, five-spice barbecue quail, which he perfected at home during the COVID-19 pandemic. He begins with beautiful, juicy quails raised by Thiessen Specialty Poultry and blanches the birds so they can better absorb his signature five-spice brine. Twelve days of aging concentrates the warm aromatics and tenderizes the meat, which is lacquered and roasted to a dark golden crisp with a precise ratio of maltose and vinegar. This is comforting BBQ par excellence and one of many elevated Chinese-style dishes that he and Alex Chen, executive chef signature restaurants, have introduced to Western diners at their acclaimed fine-dining restaurant in the Sutton Place Hotel.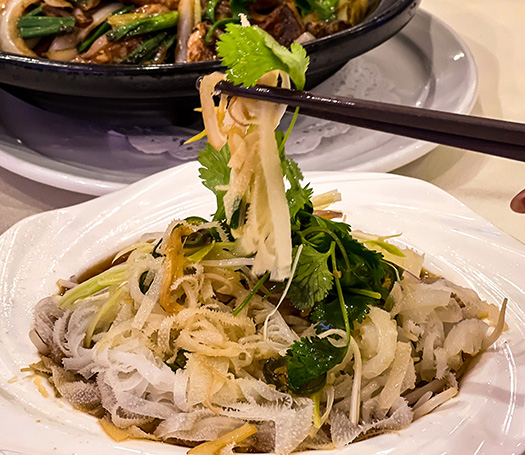 Beef Feather Tripe With Sichuan Peppercorns
Chef Tony Seafood Restaurant
4600 No. 3 Rd #101, Richmond
(604) 279-0083
Chef Tony has always been able to blend the luxurious with the rustic and bring the liveliness of Norther Chinese spices to the clean restrained canvas of Cantonese cuisine. Here, carefully prepared beef feather tripe is married with the biting citrus sharpness of green Sichuan peppercorns. The result is delicate meatiness that comes alive on the palate with just enough spark and fire to give definition and brightness to this beloved cut of beef. A delicious balancing act.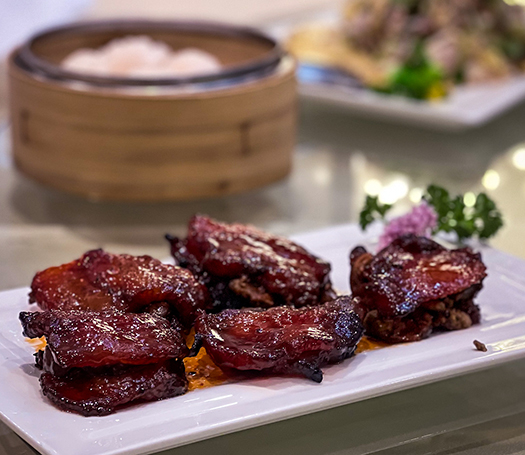 Gold Coin Chicken
Chef's Choice Chinese Cuisine *
955 W Broadway, Vancouver
(604) 558-1198
A traditional BBQ stall classic elevated to the realm of haute cuisine. This dish is a reinvention of a long forgotten classic rarely seen anymore. Metallic chicken livers nestle atop BBQ pork, it was previously a way to sell the end trimming from a roast meat stall, but now has been reinvented to appear in a fine dining setting.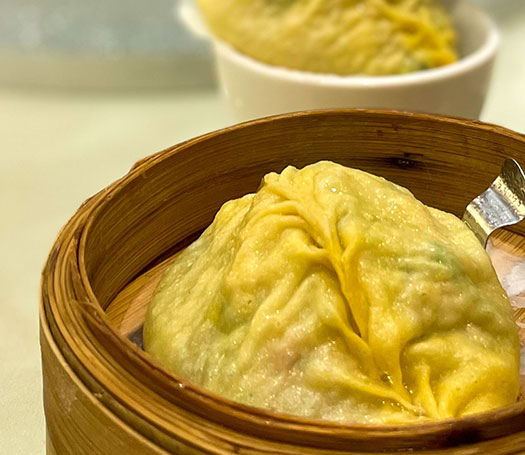 Steamed Soup Dumpling
Chef's Choice Chinese Cuisine *
955 W Broadway, Vancouver
(604) 558-1198
Lesser known that their Shanghainese xiao long bao cousin, the Cantonese soup dumpling is one of the most difficult dishes to pull off. Chef's Choice's version has an incredibly delicate skin, encasing cleanly rich broth full of shrimp and pork. With a poke from your chopsticks, the dumpling break opens, unfolding into a beautiful bowl of soup. A delicious technical wonder!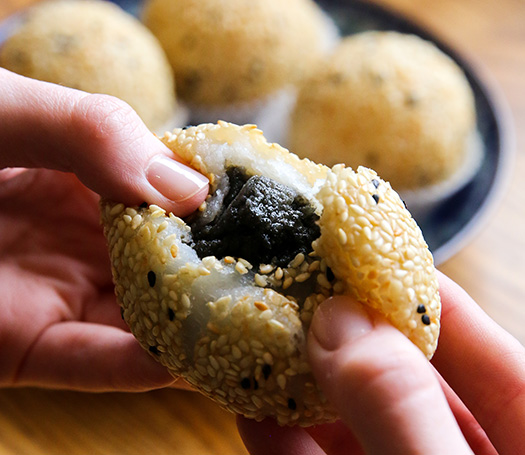 Black Sesame Balls
Heritage Asian Eatery
382 W Broadway, Vancouver
(604) 559-6058
Every kid's favourite dim sum item – deep fried mochi balls, puffed and full of sweet fillings. Heritage Asian Eatery's black sesame balls checks all the boxes with a crispy shell studded with sesame seeds, a terrific chewy pull, and a darkly rich center has that has just enough depth and bitterness to keep this treat from being cloying. Incredibly fresh and hot, these mochi balls have an immediacy that will have you scorching your fingers pulling them apart.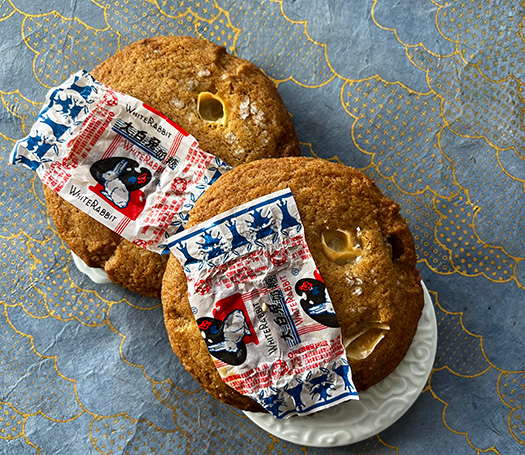 The White Rabbit
Kouign Café *
18 E Pender St, Vancouver
(604) 633-8333
Years ago, the iconic White Rabbit candies were creamy and milky. Now mass produced, they are brittle and hard. Andrew Han restores the soft toffee texture – and satisfies our taste for nostalgia — by baking them into chewy, rice-flour cookies lightly studded with dark chocolate chips and Maldon sea salt. The White Rabbit is just one of many whimsical sweet-and-savoury treats at the lovely Kouign Café, where the pastries blend Asian traditions with French techniques and are all inspired by Mr. Han's memories of growing up in Chinatown.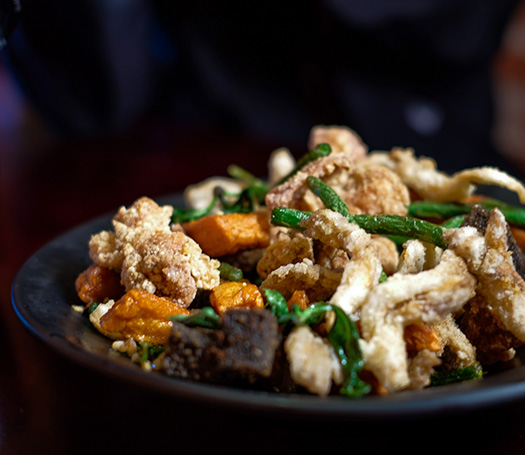 Mixed Deep Fried Appetizers
Memory Corner *
4651 Garden City Rd #1110, Richmond
(604) 284-5434
Nothing pairs better with a Taiwanese beer and table of friends than an order of Deep Fried Appetizers at Memory Corner. Tidbits of chicken, mushroom, green beans and tofu nestle into the dish perfectly seasoned in the traditional Taiwanese manner, with five spice apparent in the seasoning blend.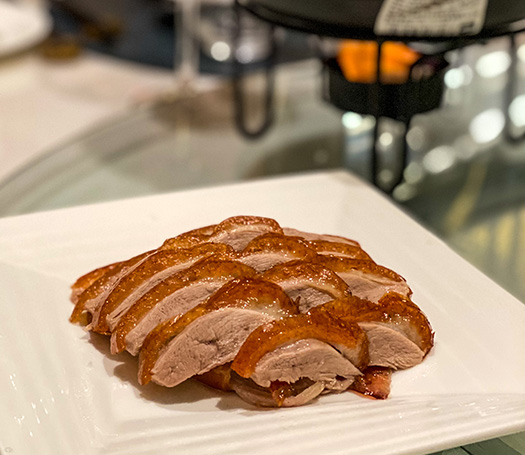 Signature Beijing Duck
iDen & Quan Ju De *
2808 Cambie St, Vancouver
(236) 477-7777
With a secret Imperial recipe that stretches back well over a century – Quan Ju De is synonymous with classic Peking Duck throughout China. Using locally sourced BC ducks raised to exacting standards, the ducks are roasted to order and emerge from their ovens with gloriously burnished skin, crisped and puffed. Seasoning is kept to a minimum to ensure diners taste the clean savouriness of the meat, beautifully carved tableside and served with fresh gossamer thin pancakes. It's no wonder Quan Ju De's Peking duck is the standard by which all others are measured.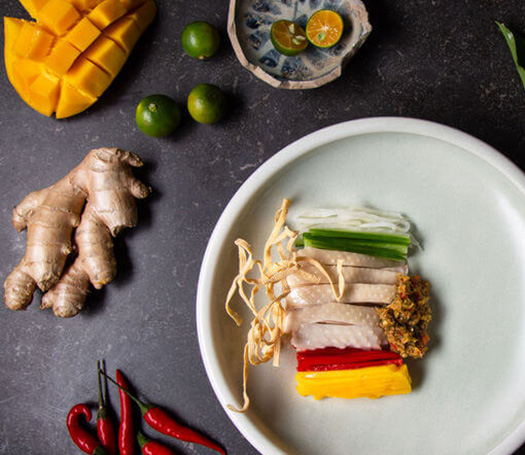 Yunnan Ghost Chicken Salad
Street Auntie Aperitivo House *
1039 Granville St, Vancouver
(604) 345-9667
At the ultra-modern Street Auntie Aperitivo House in downtown Vancouver, owner Yuyina Zhang celebrates her Yunnan heritage with international flair. The Dai-style Ghost Chicken Salad is one of many creative dishes on her weekly changing tasting menus, which are served on individual plates at a chic open-kitchen bar. Juicy, zesty and spicy, the appetizer starts with shredded, cold-poached chicken that has been marinated in aromatic lemongrass water for three days. Tossed with pickled papaya, fresh mango, Thai chili, crisp-fried tofu skin and herbs, it's an explosion of bright Southeast Asian flavours.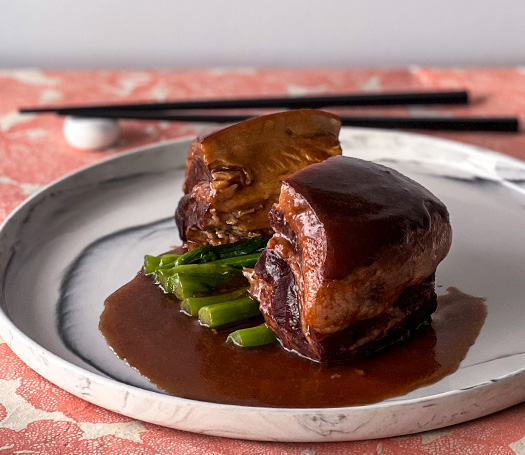 Dong Bo Pork
Suhang Restaurant *
Unit 100, 8291 Ackroyd Rd, Richmond
(604) 278-7787
Dong Bo Pork is one of the most famous dishes of Hangzhou cuisine with its origins dating back almost 1,000 years. Suhang Restaurant specializes in the dishes of Jiangsu and their version of Dong Bo Pork is perfect in its classic proportions and flavours. Slow patient simmering ensures the pork belly is meltingly tender yet retains enough structure so that it does not collapse into itself. A bowl of rice to soak up the braising liquid – rich with wine, soy, and a touch of rock sugar – is a must!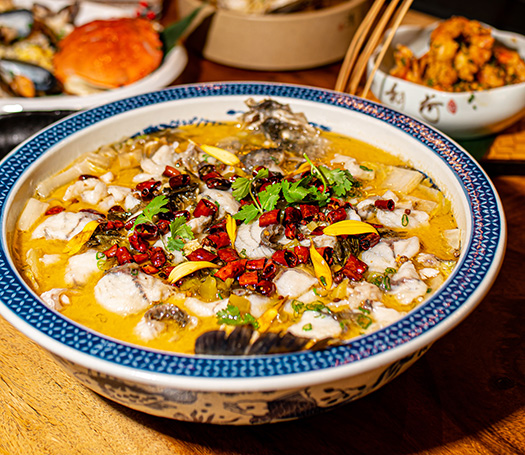 Sour Cabbage Fish Hotpot
The Fish Man
8391 Alexandra Rd #1170, Richmond
(604) 284-5393
Suan cai yu (spicy sauerkraut fish) has become a very popular Sichuan dish in Metro Vancouver. Chef Bo Li's is the very best. A trained sushi chef, he cares deeply about the quality of his fish (local and fresh, never frozen) and carves it with impeccable skill. He further elevates his spicy fish stew with a rich, silky broth made from roasted pork bones and Vietnamese pickled cabbage, which is less salty than other versions. Perfectly balanced, the dish comes together with Sichuan peppercorns and dried chilis, which tingle and buzz in the background, but never overpower the fish.
Rediscover the 12 award-winning signature dishes of 2020
12 award-winning dishes | *first time winners of the Critics' Choice Awards component
(In alphabetic order of restaurant name)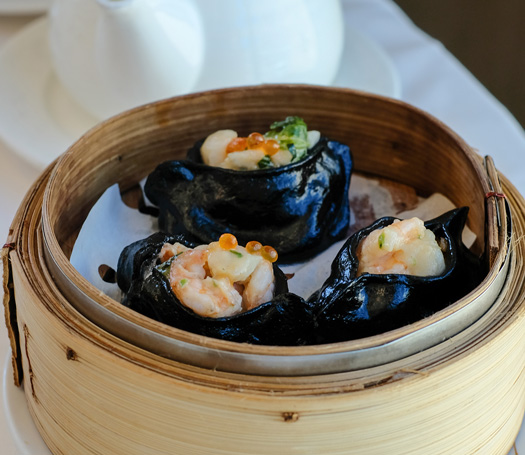 Steamed Scallop & Pea Tip Dumpling
Dynasty Seafood Restaurant
108-777 W Broadway, Vancouver
(604) 876-8388
Sweet & Sour Pork Tenderloin
Emperor's Kitchen*
Ground Floor, 8511 Alexandra Rd, Richmond
(604) 279-9997
Vitasoy Flavoured Cream Puff
Little Fox Bakehouse*
8181 Cambie Rd # 1180, Richmond
(604) 231-8131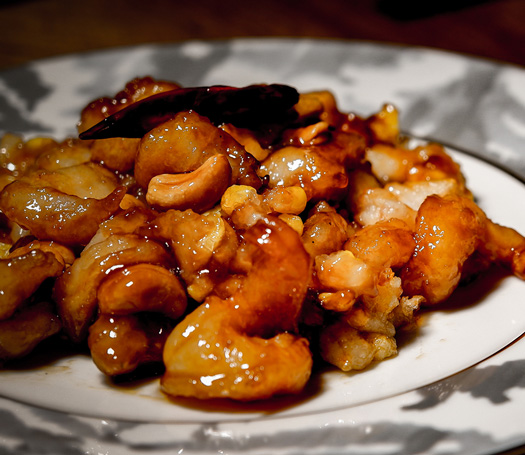 Kung Po Lobster/prawn, Sweetcorn & Water Chestnut Cake
Mott 32
1161 W Georgia St, Vancouver
(604) 979-8886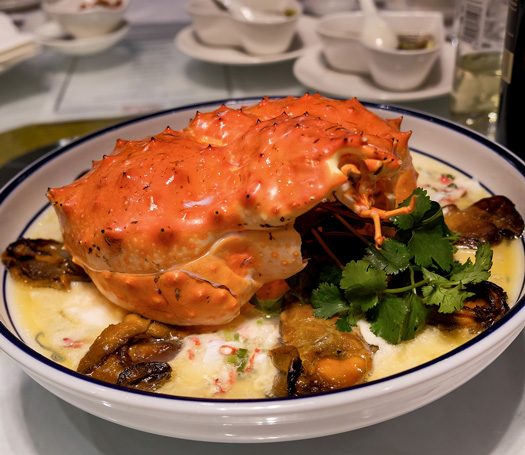 Chef's Alaska King Crab Signature Menu
New Fishport Seafood Bistro*
620 SE Marine Dr, Vancouver
(604) 323-1318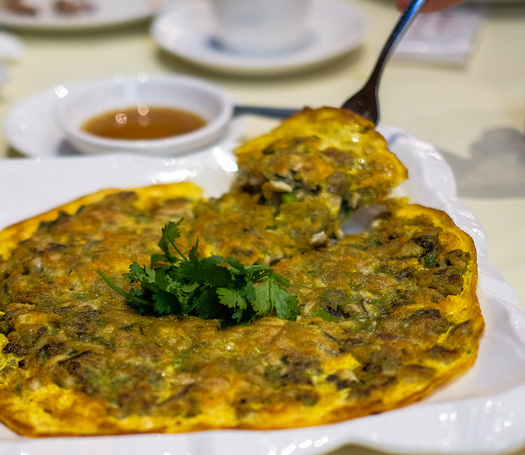 Chiu Chow Style Oyster Pan Cake
New Mandarin Seafood Restaurant*
4650 Gladstone St, Vancouver
(604) 336-9388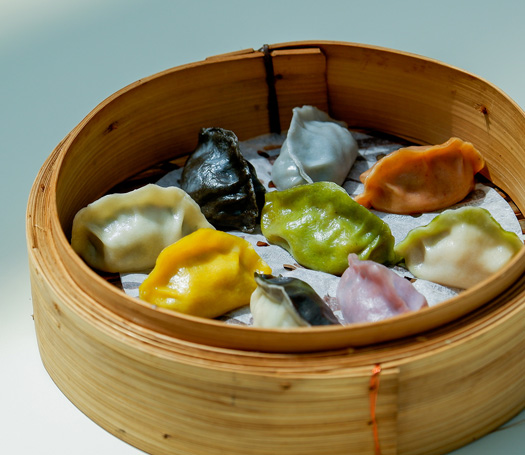 Traditional Steamed Dumpling Sampler
Nine Dumplings*
204-1610 Robson St, Vancouver
(778) 246-1199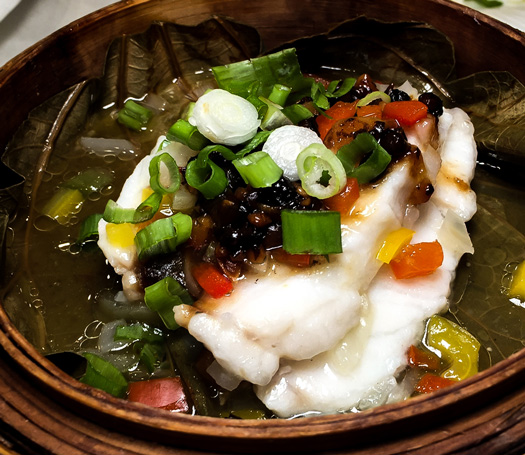 Individual Steamed Black Cod In Bamboo Leaf
Prince Seafood Restaurant*
2881 Grandview Hwy, Vancouver
(604) 430-6808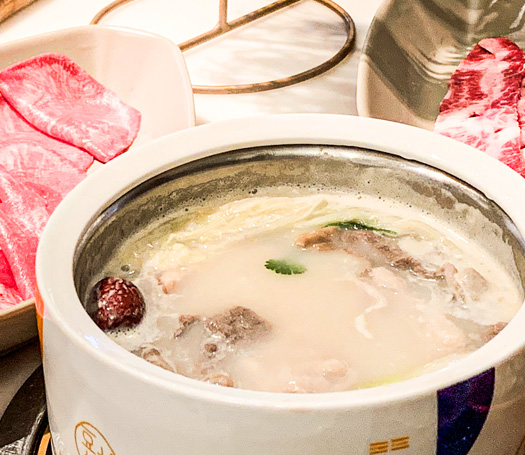 Exquisite Silver Soup Base
The Dolar Shop*
5300 Number 3 Rd, Richmond
(604) 370-7077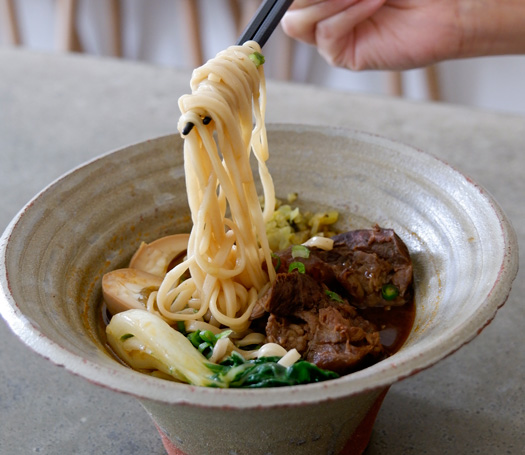 Torafuku Beef Noodle Soup
Torafuku*
958 Main St, Vancouver
(778) 903-2006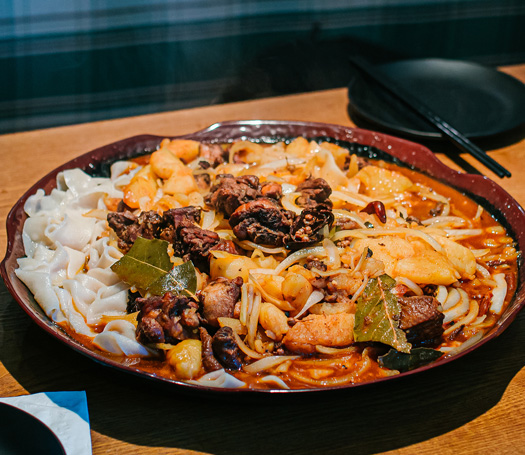 Xin Jiang Braised Chicken And Potato Platter With Biang Biang Noodles
Xi'an Noodle Restaurant*
4351 Number 3 Rd, Richmond
(778) 654-4566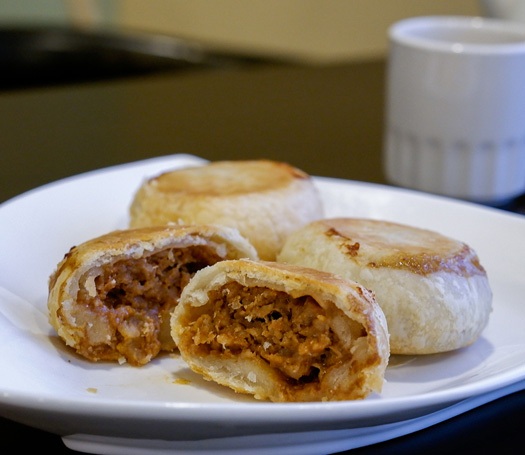 Shanghai Moon Cakes
Z&W Shanghainese Kitchen*
2126 W Broadway, Vancouver
(604) 423-2999
Founding Chair
| | |
| --- | --- |
| | Stephen Wong |
The cofounder and founding Chair of the Chinese Restaurant Awards, Stephen is a recognized authority on Chinese cuisine. A respected chef and former restaurateur, Stephen produces Granville Island Market's popular Chefs in the Market series. Stephen is also the author of 100 Best Asian Noodle Recipes.
Present Chair of the Judging Panel
| | |
| --- | --- |
| | Lee Man |
Born in Hong Kong and raised in Vancouver, Lee Man is a local food writer with a particular passion for Chinese and Asian cuisine. Lee is a regular contributor to Vancouver Magazine and is a judge for their annual restaurant awards, Lee's work has also been featured in Wine Access, Northwest Best Places, Time Out and Eat Magazine. BLOG | Instagram
Other members of the Judging Panel 2021
| | |
| --- | --- |
| | Brendon Matthews |
Brendon lives and eats in Richmond. He wrote about food for more than five years at the Richmond Review, then moved online to the popular Vancouver website Urbandiner.ca where he posts under the 'nom de net' Keith Talent. Brendon's a frequent contributor to Vancouver Magazine, and a judge for the annual Vancouver Magazine Restaurant Awards. Instagram
| | |
| --- | --- |
| | William Ho Wood Kuen |
Originally from Hong Kong and raised in Vancouver, William is acclaimed TV and radio program host and celebrity. He is currently the program host for Fairchild TV and Radio AM1470. Being passionate about food and travel, he also started his Facebook fan page to recommend gourmet and travel experience around the world to his fans. Facebook
Critics' Insights
I love the concept of a Critics' Choice Signature Dish, which is very different from the other Western-dining awards I judge. In some ways, it is easier to judge a single dish rather than an entire restaurant. And the format rewards innovation because we select new dishes each year. On the other hand, it is more difficult to choose because there are literally thousands of dishes to choose from. The winning dishes range from elaborate and modern to traditional and comforting. What they all share is technical excellence, pristine ingredients and a "wow" factor that is harder to define. Essentially, we're searching for the dishes that keep us digging in with our chopsticks and fighting for the last bites, despite the fact that we're already so full. The winners are the dishes that stand up and shout "Eat Me!" and then linger in the memory long after the meal has finished.
What are the things I look for in an award winning dish? This may sound simplistic, but above all – it has to taste good! But how a dish achieves this is vitally important, especially with Chinese cooking where subtlety and craftsmanship are highly valued. Is there depth and character? Is the cooking bringing out the best in seasonal ingredients? Is there focus and freshness in the final dish? Generally, the peak of a Chinese dish is fleeting, the aliveness of wok hei to be savored while it lasts. Chinese cuisine is an ancient big bowl, and it can take on many influences without losing its sense of itself. The goals of freshness, restraint, and purity of flavors are always present. The enjoyment of good food and community is something that Chinese culture has contemplated deeply for hundreds of years. It is deeply ingrained in our daily lives. Chinese food is a wondrous exploration that never ends.
The Critics Choice Awards are the most satisfying of any award format I've been fortunate enough to sit as a judge for. The freedom of searching out iconic renditions of supreme technique, ingredients and craftsmanship is gratifying. And then when you find a version of a well-known dish that is markedly better than similar dishes at other restaurants it's revelatory. It often time illustrates the adage that best version of something isn't the version using the most expensive ingredients or time-consuming techniques, but rather the example where the cook took care and attention. There is a palpable sense of care and love in the best dishes, a common thread that runs between a humble bowl of noodles and an elaborate seafood preparation, you can tell that the cooked cared. That sense of care, love and attention is what identifies a winning dish.
#Taste Hong Kong 2.0 and Taipei
A deeper dive with masters' conversations