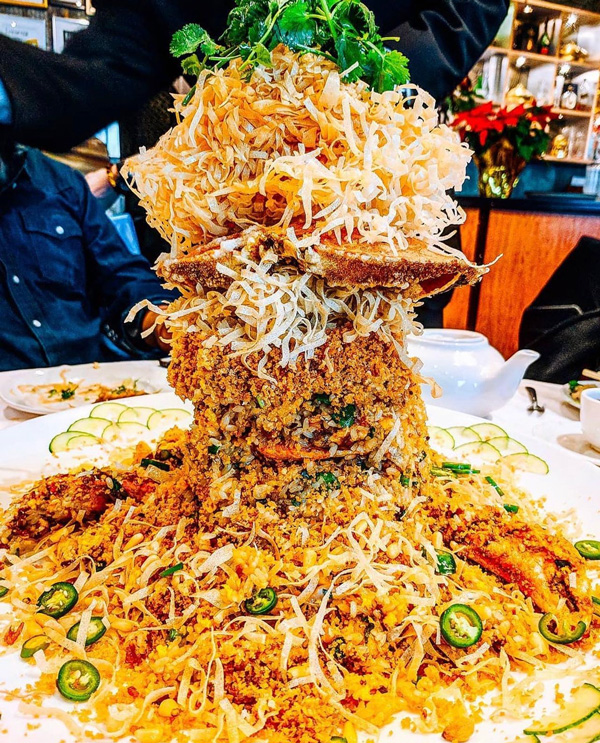 Showstopping Cantonese Banquet Classics
Dynasty first opened in the 1990's – a golden era when sophisticated Hong Kong style restaurants first took Vancouver by storm. At its core, the restaurant is a special occasion restaurant with a rigorous attention to details – Hong Kong style clean restraint elevated with big pops of rich umami and textural playfulness. Hong Kong diners will choose a centerpiece dish or two, and keep the other dishes simple while diners from China will embrace lavish abundance. The ideal dining group is 6 – 8 people, so that many dishes can ordered without overwhelming the table. The Typhoon Shelter Crab is crowd favorite – deep fried crab served in a tower of toothsome sticky rice, spiked with deep fried garlic and chilies and showered with golden crisp breadcrumbs for textural crunch. The hand shredded smoked free range chicken surrounded by batons of sugar cane to clean the palate. Vegetarian dishes are very well represented – with the Napa Cabbage stuffed with shitakes and black moss taking centre stage. The Shuntak Pork Ribs with Tile Noodles is full of sweat smoky savor. Service is top notch – and the staff will be happy to steer you in the right direction.
RECOMMENDED SIGNATURE DISHES
by the judges

Baked Portuguese curry Alaskan king crab fried rice
Black truffle beef brisket
Braised & grilled duck with mushroom medley
Braised Japanese dried abalone
Roast duck with special sauce
Stir Fried BC Dungeness Crab in Typhoon Shelter style with Pan Fried Sticky Rice
Discover more. 2022 Winners and the recommended signature dishes.