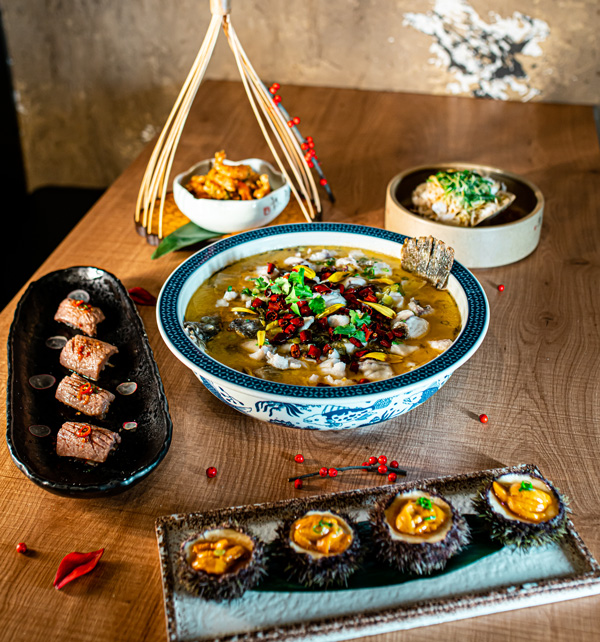 Spicy and Umami from Under the Sea
Sichuan cuisine is known to be spicy, while seafood focuses on freshness and natural umami. Though the two seem to be at odds in nature, they are full of delightful surprises. Fish Man's owner and chef Li Bo was trained in Japanese and French cuisine before settling on Sichuan cuisine. The essence of Canadian seafood has been translated into Sichuan cooking by him tirelessly and meticulously. Signature Dishes, such as Spicy Fish Hotpot, Grilled Fish Pot that encourage diners to have their choice of fish, as well as Wok-fried Manila Clams with Spicy Sauce, are all delicious examples of Sichuan seafood. Likewise, the Sour Cabbage Fish Hotpot is a wonderful choice, as the thin fish slices give a velvety soft texture only possible with Chef Li's incredible knife skills, while the sour and spicy soup doesn't overwhelm the freshness and natural umami taste of the fish. Additionally, Fish Man offers amazing seafood dishes inspired by other cuisines, including Hong Kong Style Dungeness Crab. Fish Man is a must-visit for those who love Sichuan cuisine and seafood.
RECOMMENDED SIGNATURE DISHES
by the judges

Grilled Eggplant
Grilled Fish Pot
Hong Kong Style Dungeness Crab
Sour Cabbage Fish Hotpot (Lingcod)
Seafood Fried Rice
Spicy Fish Hotpot (Lingcod)
Spicy geoduck or razor clam
Wok-fried Manila Clams with Spicy Sauce
Discover more. 2022 Winners and the recommended signature dishes.