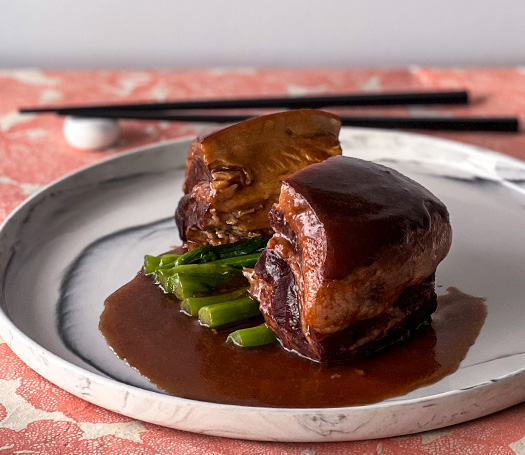 Subtle elegance in Shanghai cuisine
Shanghai cuisine is part of the broader Jiangnan cuisine. It is characterized by rigorous ingredient selection, meticulous preparation and cooking, as well as the combination of freshness and tenderness all at once. Jiangnan is the southeastern coastal region of the Yangtze River, and includes Suzhou, Hangzhou, and Shanghai. Additionally, the abundance of ingredients inspires a seasonal approach to cooking. Often, Jiangnan cuisine is simply referred to as Shanghai cuisine outside of China because of its subtle differences. Being a well-established name in Richmond, Suhang Restaurant specializes in Suzhou cuisine, while their Shanghai dishes are equally amazing. The Braised Pork Belly with Special Sauce captures the essence of Shanghainese cooking with its use of soy sauce and vinegar; the Crispy Duck with Sticky Rice and Meat Stuffing also highlights the extravagance of Shanghainese cuisine; the Steam Chicken with Wonton Soup in Clay Pot demonstrates the subtlety of Shanghainese cooking. Fresh water seafood is essential to Shanghai cuisine, but it's not as widely available in Vancouver. While restaurants have switched to saltwater seafood, Suhang Restaurant still manages to maintain the taste and texture of traditional freshwater seafood dishes with local ingredients, such as Stir Fried Shrimps. So, diners and visitors to Vancouver can experience the iconic taste of Jiangnan.
RECOMMENDED SIGNATURE DISHES
by the judges

Grilled Eggplant
Braised Pork Belly with Special Sauce
Crispy Duck with Sticky Rice and Meat Stuffing
Shredded Chicken and Vermicelli
Stir Fried Shrimps
Sliced Beef in Chili Sauce
Steamed Chicken with Wonton Soup in Clay Pot
Discover more. 2022 Winners and the recommended signature dishes.