What to order YVR : Lee Man x Fernando Medrano #WhattoOrderYVR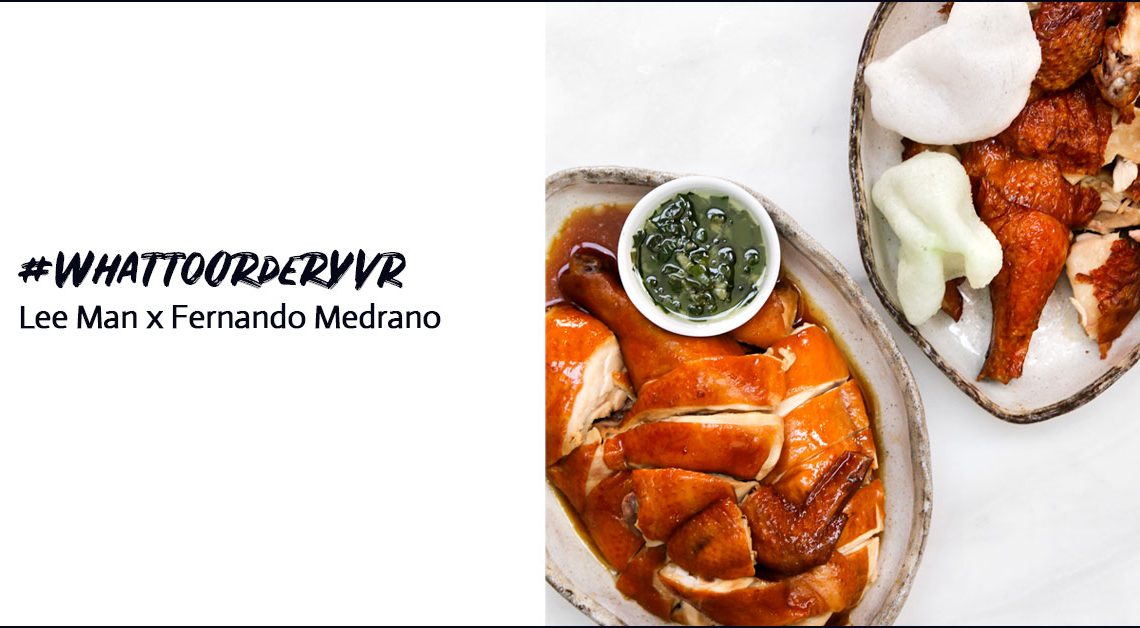 Lee Man
Judging chair of Chinese Restaurant Awards and Judge of Vancouver Magazine Restaurant Awards
Instagram | website
 Heritage Asian Eatery  
If there is a cuisine that is geared well for take out, it's casual Chinese food. It was a childhood ritual of mine was heading to the local wonton house, having a big bowl of snappy noodles and getting a big take order of BBQ meats for meals later in the week. Heritage Asian Eatery maintains impeccable traditional standards while infusing a bit of modern brightness and finesse. I'm a particular fan of their wontons, plump and full of fresh shrimp sweetness. The soy sauce chicken has a lovely soft tenderness, and adding pieces of any leftover BBQ duck you may have is superb way to perk up a bowl of instant ramen noodles.
What to order:
Wontons
Soy sauce chicken
BBQ duck
To savour: Call restaurant 604-559-6058 or Ubereats / Fantuan
Menu: see specials on their instagram Heritage Asian Eatery
Address: 382 W Broadway, Vancouver, BC V5Y 1R2
 Kishimoto Japanese Restaurant 
Absolutely exquisite Japanese food from a neighborhood favorite. Behind their easy-going vibe, is a kitchen that executes with sharp skills – yielding beautiful flavors from the best local ingredients. In a recent take out order – their black cod nigiri, ume saba shiso roll, and okonomiyaki were knockouts. If there is a faint silver lining to the very dark clouds hanging over is restaurants is that you can now easily access top notch dining at places where reservations were difficult to come by. As much as I am enjoying their food, honestly – I'll be happier when I have to fight for a reservation again.
What to order:
Black cod nigiri
Ume saba shiso roll
Okonomiyaki
To savour: Call restaurant 604-255-5550 or Skip the Dishes 
Menu: Kishimoto Restaurant
Address: 2054 Commercial Dr, Vancouver, BC V5N 4A9
 The Red Wagon 
Everyone loves diner foods. But honestly, there are times when it seems you to have choose between the flavors you are nostalgic for and the cold reality of badly made food. Not at Red Wagon. Their classic fare and flavours are underpinned by uncompromising old fashioned techniques and travel surprisingly well. Their take and bake options are particularly awesome – a recent chicken pot pie came out of my home oven bubbling and immediate in its deliciousness. Take out options rotate regularly to keep kitchen ideas fresh, but the thought of being able to fully recreate their (in)famous pulled pork pancakes at home makes self isolation definitely more bearable.
What to order:
Chicken pot pie
Pulled pork pancakes
To savour: Call restaurant 604-568-4565
Menu: check their facebook Red Wagon Cafe
Address: 2296 E Hastings St, Vancouver, BC V5L 1V4
First Place I dine after pandemic >>
 Dynasty Seafood Restaurant 
I love all Chinese food restaurants – and you develop a deep relationships with each of them. Dynasty Seafood on West Broadway is my neighborhood spot – my local canteen that I walk to for a great Chinese meal. I come in, and the warmth is immediate, cordial, and real. Over the course of many meals, they have taken very good care of me in big and small ways, to make sure my experiences are always the best. I can't wait for them to re-open so that I can see the same familiar faces, and order my favorite dishes (Shuntak spare ribs with rice noodles, gailan stir fried with preserved meats, and tofu crab bisque – please!). Most importantly, I want to make sure the people who work there are okay, and I want them to know I'm okay. Because really, that's what dining at your favorite restaurant means – caring about each other.
Address: 108-777 W Broadway, Vancouver, BC V5Z 4J7
Phone: (604) 876-8388
Fernando Medrano
Past judge of Chinese Restaurant Awards
Instagram
 Joojak Restaurant 
Have you ever had the exotic Silk Road cuisine of Xi'an China? Joojak – mere sliver of a restaurant in the Collingwood area – serves up solid renditions of some of the classic dishes from this region – a tasty amalgam of spicy Islamic influences and what we consider "Chinese". Xi'an – according to food historians – is the likely birthplace of noodles.
What to order:
Biang Biang Noodles
Roasted Lamb with Cumin Skewers
Xi'an Pork Burger
Shredded Pork in Chile and Sour Garlic Sauce
Dumplings in Spicy Sour Soup
To savour: Call restaurant 604-563-8816 Takeout only
Address: 3337 Kingsway, Vancouver, BC V5R 5K6
 My Chau Restaurant 
My Chau's fried chicken tops my list of things that need to be around post-COVID. The skin is burnished mahogany; the meat is tender and seasoned. Pair it with their Pho Ga – crystal-clear chicken broth pho. Perfect. It is a small family-owned restaurant — the kind you definitely want to have around after this apocalypse.

What to order:
Pho Ga (03 – with the Fried Chicken Leg on the side)
Ga Chien (S3 – Fried Chicken Leg…get two orders of this!)
Cha Gio (83)
Hu Tieu Mu Do Bien Nuco (17) Pork, seafood, pork heart, liver, shrimp and squid dry noodle.
Hu Tieu Sate (33) Rare beef and fresh rice noodle with sate sauce
To savour: Call restaurant 604 874-6880 Take-out only
See facebook page for update.
Address: 1715 Kingsway, Vancouver, BC V5N 2S4
 Nine Dumplings 
A cult-favourite, this stall at the Robson Public Market foodcourt run by the enigmatic and indefatigable Chef If (or is it "Yves"?). The food served here is Sichuan by way of Beijing – spicy and bold – often with a tingle from 'ma la' – the signature flavour combination of authentic Sichuan foo.

What to order:
BBQ Lamb Skewers (F1, min order 6)
Sichuan Spicy Dan Dan Noodle (G9)
Mala Spciy Fried Chicken (H7)
Dumpling Sampler
They are not yet on Uber Eats (that is in the works). Order from their Google listing
or call Chef If at 778 246-1199
Address: Robson Public Market, 204-1610 Robson St, Vancouver, BC V6G 1C7
First Place I dine after pandemic >>
 On Lok Restaurant & Wun Tun House 
On Lok is one of a dying breed of working-class-friendly Chinese joints. They serve some old school Chinese greasy spoon classics – sweet and sour pork, seafood chow mein, breaded almond chicken…that sort of thing. And that roast pork is the one thing I miss the most. It's my last meal dish.

Address: 2010 E Hastings St, Vancouver, BC V5L 1T8
Phone: (604) 253-3656