Rejoice with the Winners of Diners' Choice Awards 2020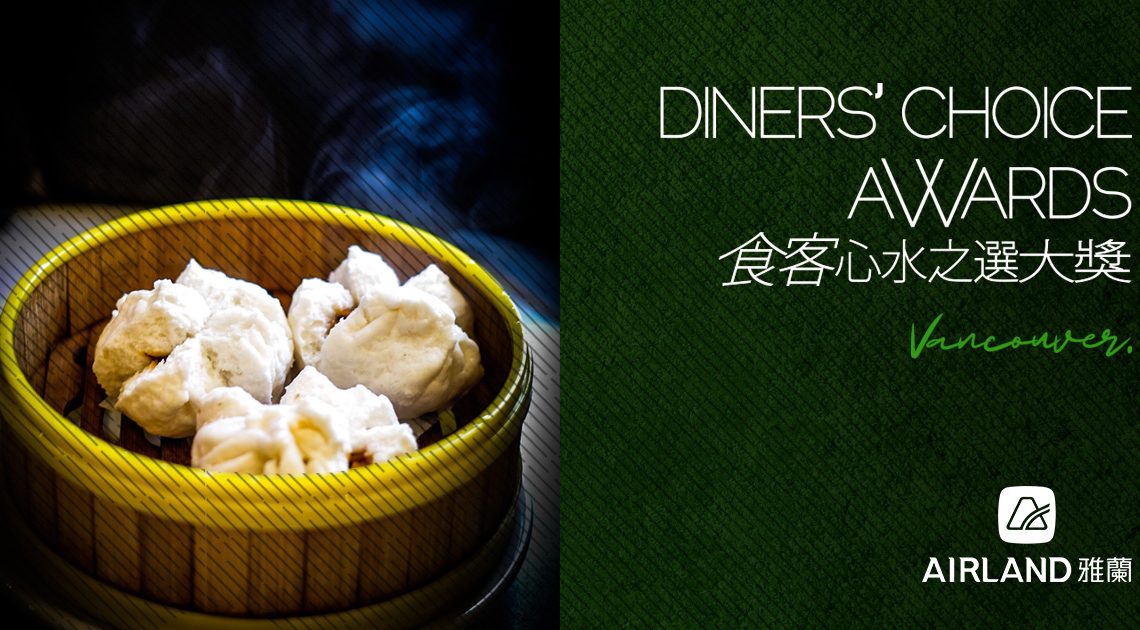 Whether it's the best of time or the worst of time, human relationships are built and maintained by food. 2020 has been a challenging year, especially for Chinese and Taiwanese restaurants that saw a dramatic decline in business since the end of January. Yet, many have managed to survive by evolving their business models to offer takeout since the beginning of the pandemic and adapt their dining atmospheres to provide safety and assurance during the "new normal". Outstanding Chinese and Taiwanese food has been an integral part of the Vancouver lifestyle. Diners' craving hasn't just kept the doors open for many Chinese and Taiwanese restaurants; diners have also shown raving appreciation on social media, with numerous shoutouts and votes that determine the Chinese Restaurant Awards' Diners' Choice Awards.
Presented by Airland Mattress Canada, 2020 Diners' Choice Awards reveals Vancouver's best of the best with 34,917 votes in 24 categories, resulting in a new dining guide for next 365 days crafted by dining public, highlighting trends in Chinese and Taiwanese dining. Diners nominated their favourite restaurants from March 2nd to March 8th. Voting began on March 9th and was extended through June 28th due to the pandemic, as restaurants have reopened and provided dine-in service again. "Moving onto the twelfth year, Chinese Restaurants Awards (CRA) has developed an inseparable relationship with the restaurant industry. Every restaurant that has been persevering through this tough time is, indeed, a winner, of which CRA does proudly supports. Especially now, we encourage diners to continue to explore and support all restaurants. Their operations can bring satisfaction and hope, especially during the pandemic," said Rae Kung, Managing Director of Chinese Restaurant Awards.
Highlights from the 2020 Diners' Choice Awards are the finest showcase of Chinese and Taiwanese culinary talents that Vancouver offers. Being the must-have dim sum item across generations, this year's Best Steamed/Baked BBQ Pork Bun goes to Chef Tony Seafood Restaurant, an outstanding establishment known for culinary innovations and award-winning dim sum. Following the success of previous award-winning dim sum dishes, Black Truffle Siu Wai and Steamed Bun with Salty Egg Yolk Lava, Chef Tony's highly regarded dim sum chefs set another milestone with their version of the beloved BBQ Pork Bun. Known for satisfying cravings for exotic flavours, Happy Tree House BBQ wins the award for Best Sichuan Spicy Grill Fish, while The Meat Up spices up the Vancouver food scene with authentic Xinjiang flavour and brings home the trophy for Best Lamb Skewer. Winner of the Best Brown Sugar Milk differentiates itself from competitors by simmering brown sugar in a large wok on site. By infusing the true essence of Taiwanese brown sugar into the magic of bubble tea, Xin Fu Tang has created the best version of this crowd-pleasing beverage.
2020's Best New Restaurant is, actually, a century-old establishment from the imperial capital of Beijing. Founded in 1864, Quan Ju De has been the definitive choice for Peking Duck, so its second Canadian outpost in Vancouver has been met with much anticipation. Diners' appreciation for their unique Northern Chinese fine dining experience is a solid proof of their achievement, even during "the new normal". As Chinese fine dining becomes a growing trend in Vancouver, Mott 32 has once again taken the Best Fine Dining Restaurant title for the third consecutive year, which proves their global approach to modern Chinese fine dining has become Vancouver's ultimate favourite. The restaurant also took the award of Best Northern Chinese Restaurant for the first time. When consistency plus excellence equals diners' loyalty, HK B.B.Q. Master reigns supreme by winning the title of Best B.B.Q. Shop for the tenth time. Their signature barbecue "char siu" and roasted pork belly are no stranger to local culinary enthusiasts, while the popular Netflix series "Breakfast, Lunch, and Dinner" has also brought international attention, where hometown star Seth Rogen brings celebrity chef David Chang to sample the best food in Vancouver, of which HK B.B.Q. Master is featured.
Winners of the 2020 Diners' Choice Awards will be invited to attend the 12th annual Chinese Restaurant Awards Ceremony at the Vancouver Club. The date and time will be determined according to government regulations on social gatherings. Results of the prestigious Critics' Choice Signature Dish Awards, presented by Canola Eat Well, will also be announced at around the middle of August, for the next round of critics' approved tasting adventures.
Sponsors & Partners: Hong Kong Economic and Trade Office(Canada), Canola Eat Well, Airland Mattress Canada, The Vancouver Club, Shangri-La Hotel Vancouver (Official Hotel), Ocean Wise, Underwater Harvesters Association, Great Bear Scallops, Luxury Alliance Group, Think x Blink Communications Ltd., Aqualina co., ChopValue, Fantuan Reviews, Singtao Daily, Pure Luxury Magazine, LifeVancouver.jp, A Bite of Vancouver, Pacific Institute of Culinary Arts and Vancouver Community College.
2020 Chinese Restaurant Awards
Winners of the Diners' Choice Awards – Metro Vancouver
24 awards in total | *Four new awards this year
1. BEST STEAMED/BAKED BBQ PORK BUN*
Chef Tony Seafood Restaurant
#101-4600 No.3 Road, Richmond (604) 279-0083
2. BEST SICHUAN SPICY GRILL FISH*
Happy Tree House BBQ
3502 Kingsway, Vancouver (778) 383-9575
8171 Alexandra Road Richmond (604) 297-1386
3. BEST LAMB SKEWER*
The Meat Up
7994 Granville St, Vancouver (604) 428-9656
3580 Number 3 Rd, Richmond (604) 370-4870
4. BEST BROWN SUGAR PEARL MILK*
Xing Fu Tang
Various locations
5. BEST NEW RESTAURANT – open less than one year
Quan Ju De
2808 Cambie Street Vancouver (236) 477-7777
6. BEST SERVICES RESTAURANT
HaiDiLao Hot Pot
#200-5890 No 3 Rd, Richmond (604) 370-6665
7. BEST FINE DINING RESTAURANT
Mott 32
1161 W Georgia St, Vancouver (604) 979-8886
8. BEST DIM SUM RESTAURANT
Kirin Restaurants
Various locations
9. BEST VEGETARIAN RESTAURANT
Po Kong Vegetarian Restaurant
1334 Kingsway Vancouver (604) 876-3088
10. BEST CANTONESE RESTAURANT
Fortune Terrace Chinese Cuisine
130-6200 River Road, Richmond (604) 285-8980
11. BEST NORTHERN CHINESE RESTAURANT
Mott 32
1161 W Georgia St, Vancouver (604) 979-8886
12. BEST SHANGHAINESE RESTAURANT
Dinesty Dumpling House
Various locations
13. BEST SICHUAN RESTAURANT
Miss Fu In Chengdu
#2130-8391 Alexandra Rd, Richmond (604) 370-5667
14. BEST TAIWANESE RESTAURANT/BBT CAFÉ
Memory Corner
1110-4651 Garden City Road, Richmond (604) 284-5434
15. BEST HUNAN RESTAURANT
Geng Shi Ji
1211-8338 Capstan Way, Richmond (604) 370-6899
16. BEST HOT POT RESTAURANT
Landmark Hotpot House
4023 Cambie St, Vancouver (604) 872-2868
17. BEST CONGEE AND/OR NOODLE RESTAURANT
Double Double Restaurant
4600 Number 3 Rd Unit 128, Richmond (604) 370-3345
18. BEST HONG KONG-STYLE CAFÉ
Happy Day Café
3312 Kingsway, Vancouver (604) 307-6868
1450 – 4771 McClelland Road, Richmond (604) 273-3308
19. BEST B.B.Q. SHOP
HK B.B.Q. Master
#145-4651 No. 3 Road, Richmond (604) 272-6568
20. BEST DESSERT RESTAURANT
iTofu
#125-4940 Number 3 Rd, Richmond (236) 888-6618
21. BEST FOOD COURT STALL
Bubble Waffle Café
Locations at various food courts
22. BEST BAKERY SHOP
Saint Germain Bakery
Various locations
23. BEST FANTUAN'S TAKEOUT RESTAURANT
HaiDiLao Hot Pot
#200-5890 No 3 Rd, Richmond (604) 370-6665
24. MOST POPULAR RESTAURANT ON FANTUAN REVIEWS
Hushifu Chicken Hot Pot
130-8171 Ackroyd Road Richmond (604) 370-0616
About Chinese Restaurant Awards Founded in 2008, Chinese Restaurant Awards is the longest running Chinese culinary awards event in the world. The Awards are rooted in two challenging yet humble goals; raise public awareness to quality Chinese cuisine throughout Vancouver's lower mainland and create a platform for cross-cultural culinary exchange, with a deeper understanding of Chinese culinary influence. The team behind the Chinese Restaurant Awards consist of food, media and marketing professionals who are Chinese food enthusiasts, with a passion for promoting regional Chinese cuisine in North America. Over the years, the team has achieved many milestones through several culinary events and campaigns such as the Chinese Master Chefs Gold Medal Dinner in 2014, East Meets West: Paris x Vancouver 2016, DINING by the Awards 2019, Chinese Restaurant Awards Scholarship and the highly popular social influential culinary tourism campaign #Taste city series in Hong Kong, Shanghai, Hangzhou, Suzhou and Taipei from 2017 to 2019.
Media contact: Rae Kung – Contact Us
www.ChineseRestaurantAwards.com #Awards2020