Chefs Lineup and Gifts of Fortune Announced for Scotiabank's Feast of Fortune Charity Gala 2023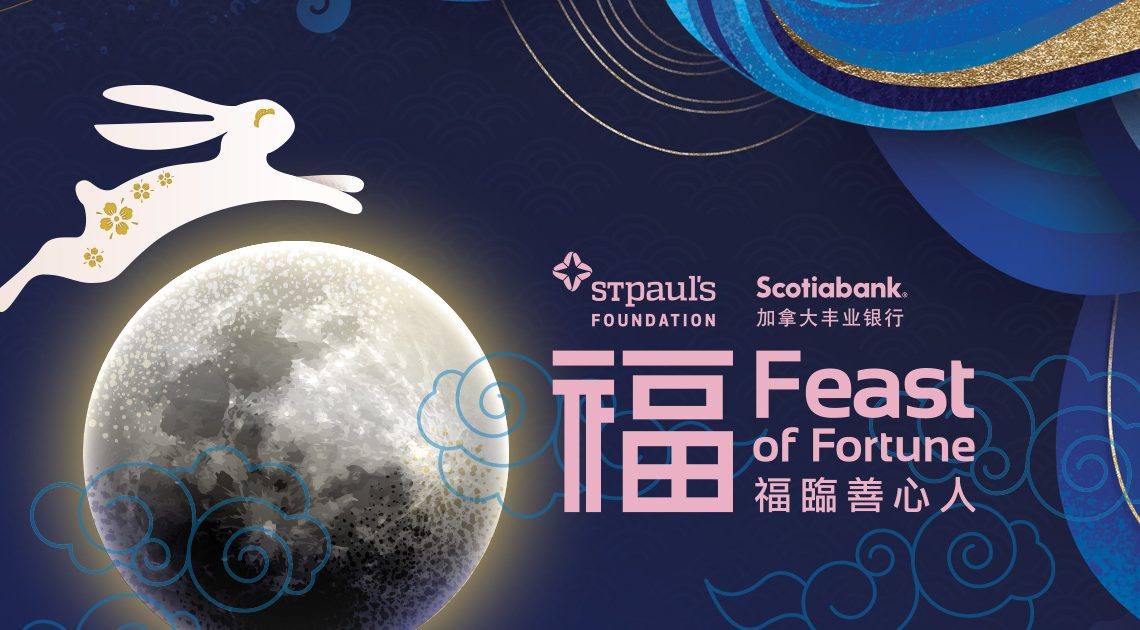 Celebrate the Year of the Rabbit by Supporting the Future of Health Care
Chefs Lineup and Gifts of Fortune Announced for Scotiabank's Feast of Fortune Charity Gala 2023
Chinese Restaurant Awards is honoured to be invited again to be a part of Scotiabank's Feast of Fortune Charity Gala at JW Marriott Parq Vancouver on February 11th, 2023. We will create a unique culinary experience during the gala reception and curate this year's Gifts of Fortune, supporting St Paul's Foundation's fundraising efforts for the future of health care at the Clinical Support and Research Centre on the Jim Pattison Medical Campus.
Over $8.7 million has been raised by the community since 2008 to support life-saving diagnostic tools, surgical equipment, research studies, and much more. Since 2018, Chinese Restaurant Awards has partnered with St Paul's Foundation to bring culinary excellence to inspire more donations. Over the years, the Chinese Restaurant Awards has become a signature partner of the Feast of Fortune.
Feast of Fortune – Award-winning and New Wave talents
Guests and donors at Scotiabank's Feast of Fortune charity gala will enjoy an exquisite culinary experience. Curated by Chinese Restaurant Awards, Vancouver's 20 Best Award winners and new wave chefs will collaborate and prepare delectable surprises to open the Feast of Fortune charity gala. Participating award winners include the head chef of Fish Man – Chef Li Bo, winner of the Restaurant of the Year, Best Sichuan Cuisine, and the Rising Star Chef of the Year winner, and Executive Chef Leo Wang from Chang'An, winner of the Best Northern Chinese restaurant.
With a continuous effort to showcase young and ambitious culinary talents, the gala reception will also feature new wave chefs, such as Executive Chef William Lew of Club Versanté, now helming the kitchens of BRUNO, Oo La Cha and CASK Whisky Vault and the featured chef at last summer's DINING by the Awards, Vancouver's own Top Chef Canada season 10 runner up Chef Deseree Lo, and L'Abattoir Chef de Partie Toby Chen, who was first introduced at MASTERS Finale gala on December 7, 2022 and unleashed his potential while cooking alongside international and local master chefs.
To join the Gala in person, please visit: https://helpstpauls.com/feast-of-fortune/
More about the participating chefs – https://chineserestaurantawards.com/fof-2023/
Gifts of Fortune – when Cantonese Umami meets the aroma of Premium Tea Pairing
Pre-order now available at this link https://chineserestaurantawards.com/FOF-2023/
Featuring three exciting options, the extraordinarily meaningful Lunar New Year Gifts of Fortune are back to celebrate the Year of the Rabbit. Winner of the 2021 Game Changer Award and Signature Dish Award, Chef's Choice Chinese Cuisine supports the Gifts of Fortune by offering the newly visioned Special Edition Premium Artisan XO Sauce from Master Chefs series and the Lunar New Year celebration Poon Choi feast, designed by their master chef Tommy Pang. This Signature XO Sauce comes beautifully packaged in elegant red to symbolize prosperity for the new year. It is prepared using a variety of premium ingredients, including Hokkaido dried scallops, refined dried shrimp, Canadian Pure Canola Oil, Chinese ham, chili oil, garlic, shallots, sea salt, and soy sauce. Limited to only 150 jars, each is priced at CAD 38, with 30% of the proceeds donated to the charity's goal.
Poon Choi is a favourite communal feast for the Lunar New Year. With layers of dried oysters, sea cucumber, tiger prawns, marinated chicken, pork knuckles, goose webs and more to create a uniquely Cantonese umami taste, the feast is meant to share the joy and prosperity of the new year with family and friends. The Gifts of Fortune Poon Choi feast by Chef's Choice is designed for 6 people, priced at CAD 198, with $30 donated to the charity's goal.
Premium tea pairing is the most elegant way to elevate any Lunar New Year feast. Lam Kie Yuen Tea Co. Ltd, the globally prominent tea supplier based in Hong Kong since 1955, will support the charity's goal once again with their exclusively curated Gift of Fortune special edition tea set, which includes the delicate white tea – White Peony Supreme and the exceptional green tea Monkey Picked Tieguanyin, which are the cornerstones of tea pairing. Limited to only 150 sets, they are CAD 38 each, with 30% of the proceeds donated to the charity's goal.
A special value set of the Premium Artisan XO sauce and Chinese tea gift is available for purchase at CAD 68 (CAD 10 less than regular price) as well, with 30% of the proceeds for donation, that foodies can enjoy both excellent charity gifts.
2023 Gifts of Fortune features one-of-a-kind top-notch delicacies that make the perfect gift for your family, friends, and yourself, showing love and care, while supporting St. Paul's Foundation's fundraising goal. #FOF2023
About Chinese Restaurant Awards Founded in 2008, Chinese Restaurant Awards is the longest running Chinese culinary awards event in the world. The Awards are rooted in two challenging yet humble goals; raise public awareness to quality Chinese cuisine throughout Vancouver's lower mainland and create a platform for cross-cultural culinary exchange, with a deeper understanding of Chinese culinary influence. The team behind the Chinese Restaurant Awards consist of food, media and marketing professionals who are Chinese food enthusiasts, with a passion for promoting regional Chinese cuisine in North America. Over the years, the team has achieved many milestones through several culinary events and campaigns such as the Chinese Master Chefs Gold Medal Dinner in 2014, East Meets West: Paris x Vancouver 2016, DINING by the Awards 2019, Masters Finale 2022, Chinese Restaurant Awards Scholarship and the highly popular social influential culinary tourism campaign #Taste city series in Hong Kong, Shanghai, Hangzhou, Suzhou and Taipei from 2017 to 2019.
Facebook @ChineseRestaurantAwards Instagram @ChineseRestaurantAwards Twitter @CRADiningGuide
Media contact: Rae Kung rae@ChineseRestaurantAwards.com
www.ChineseRestaurantAwards.com