DINING by the Awards 2023: NEW WAVE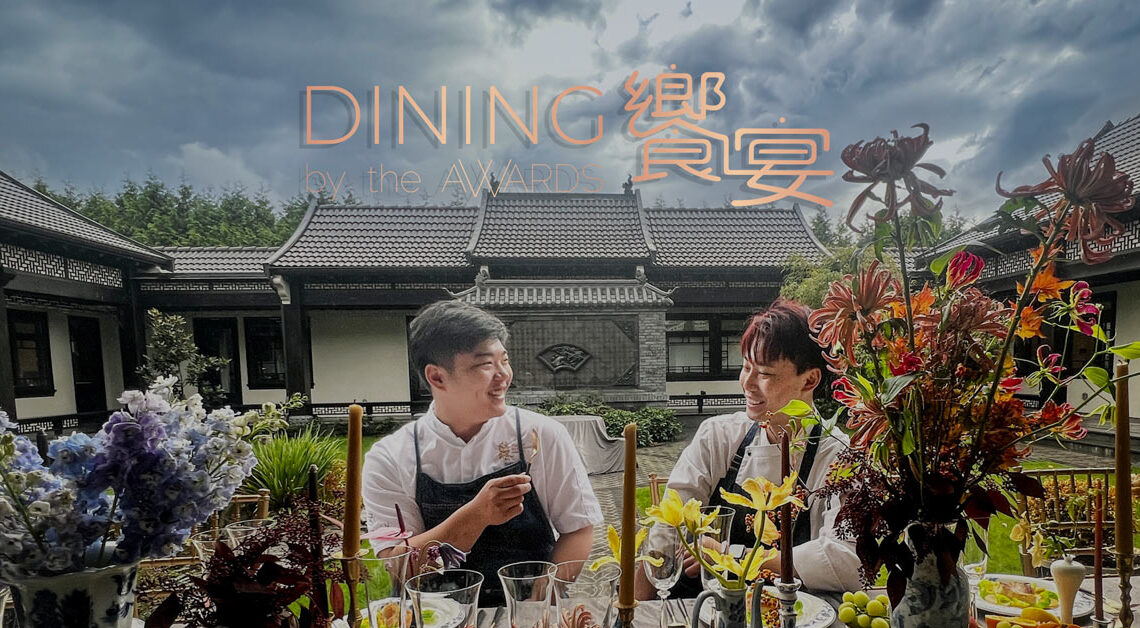 DINING by the Awards 2023: NEW WAVE
A Fusion of Chinese and French Delights by Rising Star Chef William Li and Chef Toby Chen
Vancouver, BC – Prepare for an exceptional culinary experience as DINING by the Awards 2023 returns this Fall, co-presented with Canada's latest private members' club, BEIJING MANSION. This year's event promises to tantalize your taste buds by introducing a captivating fusion of Chinese and French culinary traditions, brought to life by two emerging "New Wave" culinary talents in Vancouver.
On November 22, 2023, embark on an extraordinary culinary journey as two chefs, William Li, Chef de Cuisine of L'ABATTOIR, and Toby Chen, Executive Sous Chef of Missing Chopsticks, unite to present an exclusive 8-course menu. Blending their French culinary experiences with a profound appreciation for Chinese roots and heritage, these young culinary virtuosos pledge to deliver a dining experience like no other. Among the menu highlights are Loong Koong Chicken Terrine with Scallion Chimichurri and Ginger Frost, and Grilled Quails and Foie Gras Claypot Rice – – dishes that will undoubtedly leave a lasting impression.
New Wave Collaboration Nurturing the Growth and Exciting Possibilities of Chinese Cuisine
Lee Man, Chair of Judges for the Chinese Restaurant Awards, eagerly anticipates the event. He shares, "Since the inception of DINING by the Awards in 2019, we've had the privilege of collaborating with nearly 20 culinary talents. For the 2023 series, our vision is to boldly provide a platform for the new generation, spotlighting the rising stars who have been wanting to unleash their talents in Chinese cuisine. We're committed to nurturing the future of culinary talents and 'NEXT IDEA' on Chinese cuisine."
Jerry Ling, President and Host of BEIJING MANSION, adds his enthusiasm, saying, "We are thrilled to host DINING by the Awards at BEIJING MANSION's private residence property in Richmond, aligning with our vision to offer an inspiring and experimental culinary journey to our members. We extend a warm welcome to new friends who can savor the unique ambiance of our property, which is Canada's first gracious Beijing Siheyuan architecture, while joining us for DINING by the Awards." This collaboration also marks the exciting beginning of BEIJING MANSION hosting the Chinese Restaurant Awards, offering talented chefs a new platform to showcase their skills in the realm of Chinese cuisine.
With only 60 seats available at CAD 288 per person and the option of a premium Champagne & Sake pairing at CAD 120 per person, thoughtfully curated by BEIJING MANSION's Wine Director, Ms. Van Doren Chan, dining explorers are invited to savor the evolution of Chinese cuisine guided by two groundbreaking "New Wave" chefs as they redefine culinary boundaries across distinct traditions. Throughout the evening, the chefs will share their inspiration for each dish, combining French and Chinese gastronomic techniques with fresh, authentic, and seasonal ingredients from China and Canada. Prepare for a memorable evening that transcends the ordinary, celebrating the fusion of tradition and innovation on your plate.
Seats are limited for this exclusive collaboration. For tickets/corporate bookings, and media inquiries, please contact Rae Kung at rae@ChineseRestaurantAwards.com.
Event website https://chineserestaurantawards.com/dining-2023.
Wednesday, November 22, 2023
DINING by the Awards 2023: Chef William Li x Chef Toby Chen
Eight-course tasting menu
CAD 288 per person + GST (tickets sold in pair)
CAD 2,880 + GST per 10-guest round table
Optional: Premium Champagne & Sake pairing at CAD 120 + GST per person
Hosting Venue: BEIJING MANSION private residence property

6100 No. 5 Road, Richmond, BC V6Z 0G5 (close to Westminster Hwy)
Time: 6pm reception | 6:30pm DINING commences
Complimentary parking available.
– END –
About the Chinese Restaurant Awards
Established in 2008, the Chinese Restaurant Awards proudly hold the title of the world's longest-running Chinese culinary awards event. With a dual mission of enhancing public appreciation of exceptional Chinese cuisine in Greater Vancouver and fostering cross-cultural culinary exchange, this dedicated team of professionals, driven by their passion for Chinese cuisine, has accomplished significant milestones. Notable highlights include the Chinese Master Chefs Gold Medal Dinner in 2014, the captivating East Meets West: Paris x Vancouver in 2016, the DINING by the Awards events in 2019 and 2022, and the immensely popular #Taste city series, which left an indelible culinary mark in Hong Kong, Shanghai, Hangzhou, Suzhou, and Taipei from 2017 to 2019. The Chinese Restaurant Awards continue to stand as an enduring symbol of excellence in the world of Chinese gastronomy.
About BEIJING MANSION www.BEIJINGMANSION.COM
BEIJING MANSION is Canada's latest private members' club tailored for high-achievers and explorers, offering an exclusive social circle. The club serves as the ultimate destination for building connections, finding inspiration, engaging in meaningful dialogues, accessing personalized luxury concierge services, and indulging in curated unique experiences in arts, culture, and gastronomic exploration. Distinguished as the first Siheyuan architecture in Canada, BEIJING MANSION's private residence property in Richmond seamlessly combines the ancient Siheyuan spirit, rooted in a history dating back over 2,000 years to the China Western Zhou period, and the profound architectural concept of "天人合一" – the unity of heaven and humanity, within the context of Chinese traditional residential design. At BEIJING MANSION, privileged access to exceptional experiences is a hallmark, encapsulating the essence of a private members' club that thrives on exciting and meaningful social interactions.