Culinary Salute to Health Care Heroes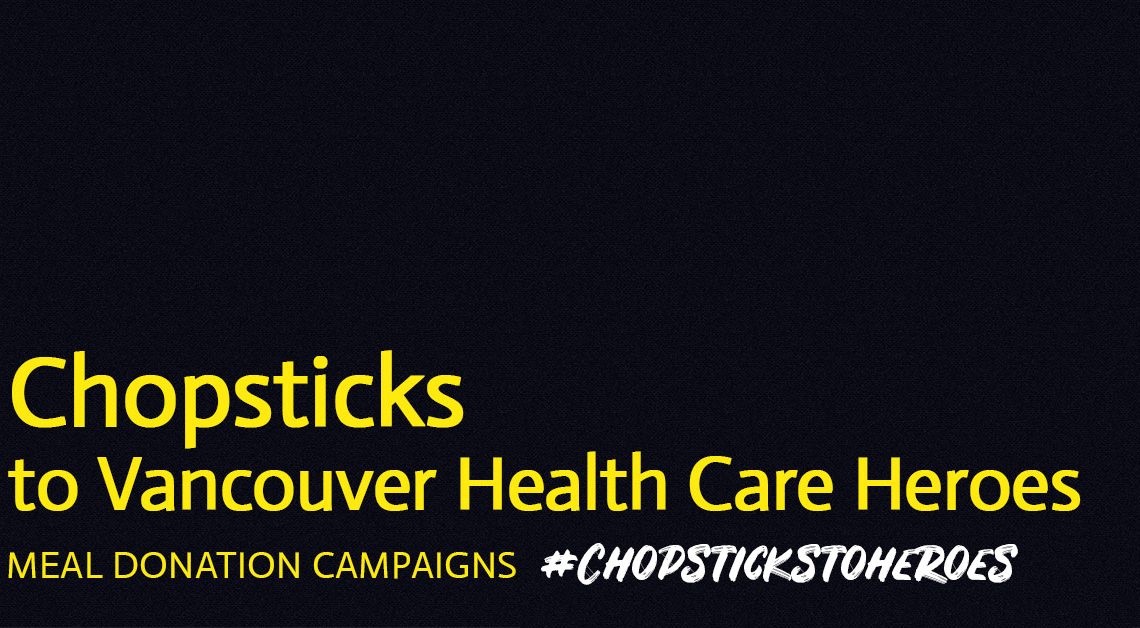 Culinary Salute to Health Care Heroes
30 Asian Restaurants to Donate 1,500 Dinner Meals to Vancouver General Hospital
While restaurants are struggling to survive amidst the COVID-19 pandemic, they are also utilizing their resources to help fight this battle. As a continued effort to support local businesses, Chinese Restaurant Awards have co-created the Chopsticks to Vancouver Health Care Heroes #ChopstickstoHeroes campaign, which will commence on Monday, April 6, with the contributors and 30 Asian restaurants to each prepare and donate 50 dinner meals. 100 meals per day over a 15 days period will be sent to health care workers at the Vancouver General Hospital. A total of 1,500 nutritious meals with vegetarian options will meet the donation requirements and food safety standards outlined by the Hospital.
Most of the participating restaurants in the #ChopstickstoHeroes Campaign are Diners' Choice Awards nominees that serve Chinese regional cuisine and Taiwanese cuisine, with the inclusion of a sushi restaurant as well. Some have previously shut their doors temporarily due to the COVID-19 outbreak, such as Fortune Terrace Chinese Cuisine, New Fishport Seafood Bistro and Peninsula Seafood Restaurant, but they have decided to reignite their stoves and effort to support this meaningful campaign. This campaign is also to relay the effort from restaurants that have already been donating meals.
"Through our twelve years of experience in collaboration and operation, Chinese Restaurant Awards has established an inseparable relationship with restaurant industry. We are honoured to be the supporting organization of the #ChopstickstoHeroes Campaign, by connecting the generosity of Asian restaurants with the bravery of frontline health care workers," said Rae Kung, Managing Director of Chinese Restaurant Awards.
In response to the COVID-19 outbreak, Chinese Restaurant Awards has extended the Diners' Choice Awards public voting deadline to May 3rd and postponed the awards ceremony to a better day in the near future. Timing is always important, and community well-being is always the Awards' priority. Now is the time to unite all forces through this meaningful campaign. The food conversation will be carried on when the award results are announced.
"The urge to co-create this #ChopstickstoHeroes Campaign is to show that the Asian restaurant industry cares deeply about the well-being of health care workers, as well as the community at large. By donating dinner meals, we wish to ensure that VGH health care workers are well-fed and don't have to worry about meal plans while saving lives," said Jason Li, one of the co-creators of the #ChopstickstoHeroes Campaign, as well as the owner of Me and Crepe.
While these restaurant are supporting this good cause, Chinese Restaurant Awards also encourages the dining public to show the Canadian spirit of mutual support in fighting the pandemic by ordering take-out or delivery from these restaurants. The #ChopstickstoHeroes Campaign encourages any hospitals and health care centres to contact Chinese Restaurant Awards, if they would like to receive meal donations. The campaign also welcomes any restaurant to reach out if they would like to participate in future campaigns.
#ChopstickstoHeroes Campaign Participating Restaurants:
Bamboo Groove Restaurant
Cherry's Food House
Chow Fusion Restaurant
Dinesty Dumpling House
Emperor's Kitchen
Fortune Terrace Chinese Cuisine
Geng Shi Ji
Glorious Bao & Fried Rice
Gram Cafe and Pancakes
Hotpot Palace
Jianghu Taiwanese Pots & Wok Cuisines
Liuyishou Hotpot
Lougheed Wonton Restaurant
M Sushi
M8 Bistro and Bar
Me and Crepe
Memory Corner
Micha
New Fishport Seafood Bistro
New Mandarin Seafood Restaurant
Old Beijing Roast Duck
Peninsula (Oakridge) Seafood Restaurant
Shine Valley Lamb Soup
Sip Bowl La Mian
The Dolar Shop
The Fish Man
Tian Shi Fu Restaurant
Uno Beef Noodle
Yang Guo Fu Spicy SoupYuan's Hotpot
About Chinese Restaurant Awards  Founded in 2008, Chinese Restaurant Awards is the longest running Chinese culinary awards event in the world. The Awards are rooted in two challenging yet humble goals; raise public awareness to quality Chinese cuisine throughout Vancouver's lower mainland and create a platform for cross-cultural culinary exchange, with a deeper understanding of Chinese culinary influence. The team behind the Chinese Restaurant Awards consist of food, media and marketing professionals who are Chinese food enthusiasts, with a passion for promoting regional Chinese cuisine in North America. Over the years, the team has achieved many milestones through several culinary events and campaigns such as the Chinese Master Chefs Gold Medal Dinner in 2014, East Meets West : Paris x Vancouver 2016, DINING by the Awards 2019, Chinese Restaurant Awards Scholarship and the highly popular social influential culinary tourism campaign #Taste city series in Hong Kong, Shanghai, Hangzhou, Suzhou and Taipei from 2017 to 2019.
Facebook @ChineseRestaurantAwards   Instagram @ChineseRestaurantAwards   Twitter @CRADiningGuide
Media contact: Rae Kung rae@ChineseRestaurantAwards.com  +1236.868.0998
www.ChineseRestaurantAwards.com #Awards2020