Elevating the Lunar New Year Celebration for the Year of the Tiger and the future of health care at the new St. Paul's Hospital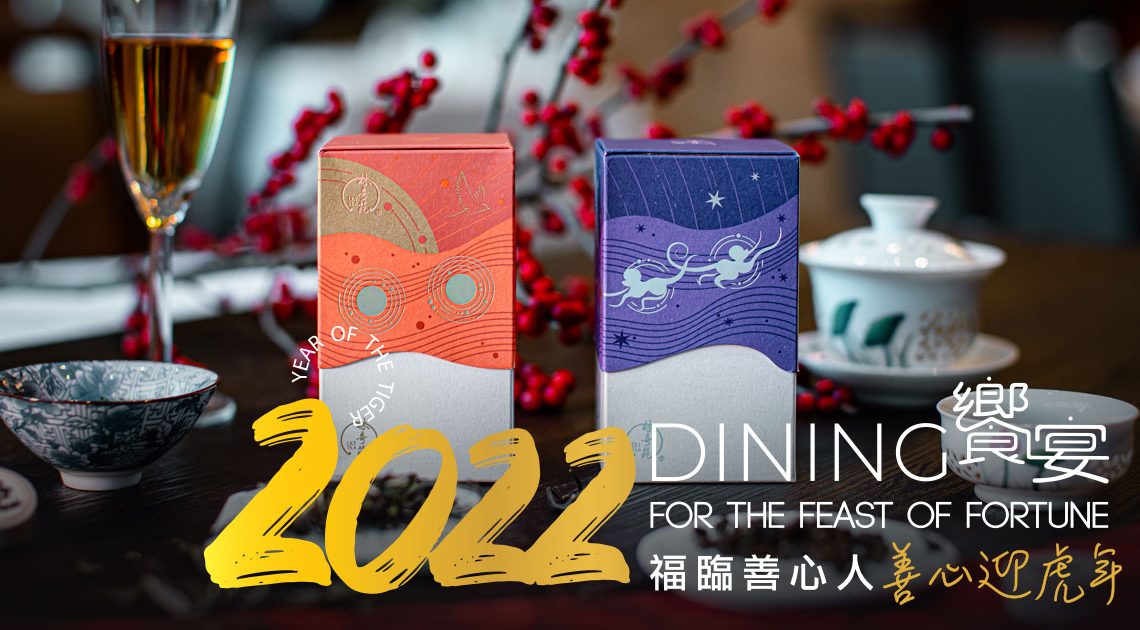 Elevating the Lunar New Year Celebration
2022 Gift of Fortune offers two exquisite gift ideas
for the Year of the Tiger and the future of health care at the new St. Paul's Hospital
Since 2015, Chinese Restaurant Awards has been working with St. Paul's Foundation in support of its annual Feast of Fortune fundraising campaign. Inspired by last year's overwhelming success with sold-out gourmet treats at the DINING for Feast of Fortune, the Awards wishes to elevate this Lunar New Year celebration by doubling down on the campaign's Gift of Fortune, presenting not just one, but two unique gourmet gift sets to raise funds for the Providence Research Institute at the Jim Pattison Medical Centre.
"St. Paul's Foundation is proud to partner with the Chinese Restaurant Awards to raise funds for the 15th annual Feast of Fortune campaign. Since 2008, this community-led campaign has raised almost $8 million to support Providence hospitals and long-term care sites across BC. For the Year of the Tiger, funds raised will support the future of medicine at the Providence Research Institute at the Jim Pattison Medical Centre. This state-of-the-art research and innovation complex will be where critically-needed medical breakthroughs occur, where technology is refined and harnessed to promote discovery, and where the next generation of medical researchers find novel treatments and cure diseases, changing and saving lives," said Dick Vollet, CEO of St. Paul's Foundation.
Pre-ordering begins today for the two specially curated 2022 Gift of Fortune, which includes a premium tea gift set by Lam Kie Yuen Tea Co. Ltd. and the award winning White Rabbit Cookies set by Kouign Café. Both with limited quantities, these gourmet gifts are the tasteful way to kickstart the Year of the Tiger. Sharing these fortunes with family, friends, and even business connections can also raise awareness for the future of health care and support local businesses. "The Awards and partners are delighted to present these delightful and thoughtful Gift of Fortune for a great cause. The pandemic has awakened a profound concern for the future of health care, so raising funds for the new St. Paul's Hospital has become even more meaningful, " said Lee Man, Chair of the Chinese Restaurant Awards' judging panel. Pre-order link: https://chineserestaurantawards.com/dining-fof-2022
Gourmet Pairing with Premium Chinese Tea
A sumptuous Lunar New Year feast shall be elevated with premium tea pairing. 2022 Gift of Fortune features a beautifully packaged premium Chinese tea set in a special collaboration with Lam Kie Yuen Tea Co. Ltd, the globally prominent tea supplier based in Hong Kong since 1955. Carefully curated by the family's second generation tea master Eliza Lam, this premium tea set includes the delicate white tea – Supreme White Peony and the exceptional oolong tea Monkey Picked Tieguanyin, which are the cornerstones of tea pairing.
While tea pairing is synonymous with Chinese dishes, this premium tea set can also elevate the taste and experience of other cuisines as well. Comparable to the essence of wine pairing, the value of tea pairing is a bottomless treasure, so this tea set is the perfect gift to share our love for food and raise funds for the new St. Paul's Hospital. Limited to 280 sets only, each set is $38 CAD. Pick up at or delivery from Lam Kiu Yuen's outpost in Vancouver – Aroma Tea House (8059 Granville St, Vancouver).
Click here to read more about tea pairing and tasting notes.
Award-Winning White Rabbit Cookies Gift Set
Just like a rabbit hopping with joy towards the Lunar New Year, 2022 Gift of Fortune's White Rabbit Cookies gift set isn't just a collaboration between Chinese Restaurant Awards and Kouign Café, but also a sweet and fulfilling way to put a smile on anyone's face. As the winner of the 2021 Critic's Choice Signature Dish Award, White Rabbit Cookie is Chef Andrew Han's homage to his childhood memories of Chinatown. "Andrew Han restores the soft toffee texture – and satisfies our taste for nostalgia — by baking [the white rabbit candies] into chewy, rice-flour cookies lightly studded with dark chocolate chips and Maldon sea salt." said Alexandra Gill, member of the Chinese Restaurant Awards' judging panel.
Beautifully packaged in a bamboo steamer, this White Rabbit Cookie gift set comes with 12 mini White Rabbit Cookies and 3 different kinds of dipping sauce on the side (jasmine caramel, black sesame caramel, and chrysanthemum honey), as well as a random greeting about your new year's fortune. Limited to 200 sets only, each set is $45 CAD. Pickup for the first 100 sets will be from January 29th to 30th, and the second 100 sets will be available for pickup from February 5th to 6th, right in time to celebrate everyone's birthday on the 7th day of the lunar calendar.
Pre-ordering Available Now
Just in time to celebrate the Year of the Tiger, the 2022 Gift of Fortune from the DINING for Scotiabank Feast of Fortune is an exceptional way to elevate the Lunar New Year. Twenty per cent of the proceeds of each gift set will go to the Providence Research Institute at the Jim Pattison Medical Centre. Free delivery in the Greater Vancouver area is available for five or more orders of each gift set. Pre-order now, as these gift sets come in limited quantities.
– END –
About Chinese Restaurant Awards
Founded in 2008, Chinese Restaurant Awards is the longest running Chinese culinary awards event in the world. The Awards are rooted in two challenging yet humble goals; raise public awareness to quality Chinese cuisine throughout Vancouver's lower mainland and create a platform for cross-cultural culinary exchange, with a deeper understanding of Chinese culinary influence. The team behind the Chinese Restaurant Awards consist of food, media and marketing professionals who are Chinese food enthusiasts, with a passion for promoting regional Chinese cuisine in North America. Over the years, the team has achieved many milestones through several culinary events and campaigns such as the Chinese Master Chefs Gold Medal Dinner in 2014, East Meets West: Paris x Vancouver 2016, DINING by the Awards 2019, Chinese Restaurant Awards Scholarship and the highly popular social influential culinary tourism campaign #Taste city series in Hong Kong, Shanghai, Hangzhou, Suzhou and Taipei from 2017 to 2019.
Facebook @ChineseRestaurantAwards Instagram @ChineseRestaurantAwards Twitter @CRADiningGuide
Media contact: Rae Kung rae@ChineseRestaurantAwards.com
www.ChineseRestaurantAwards.com #Awards2022